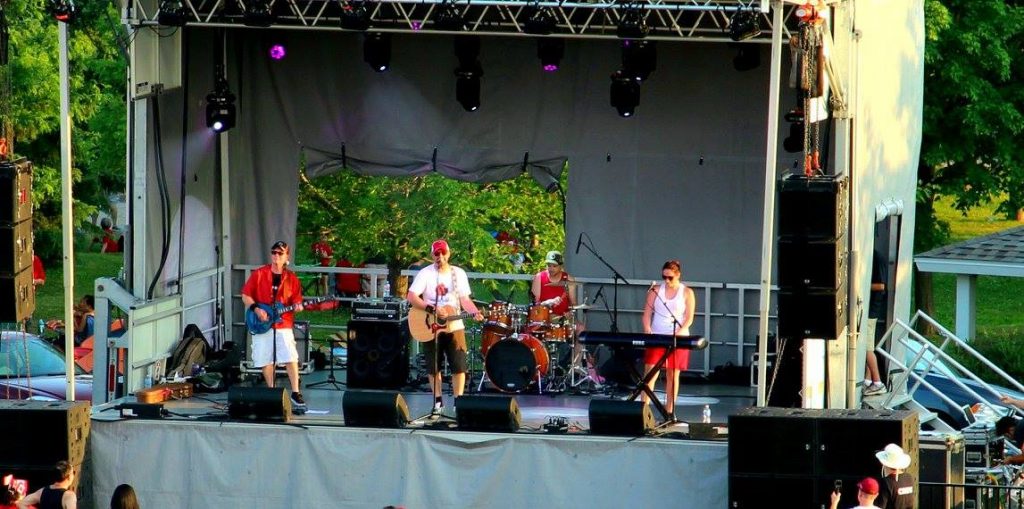 The Band
The Keystrings are a band out of West Ottawa, Ontario. Starting as duo in 2011, they expanded by adding a drummer and a lead guitarist to round out their sound.
With a mashed skill set of classically-trained and self-taught musicians, along with a highly accomplished Pipe Band snare drummer who's competed in National and World championships,  The Keystrings diverse sound results in a diverse show of head bobbing and toe tapping tunes.
Jill Ross – Keyboard / Backup Vocals
Jill is a Royal Conservatory classically trained pianist with 20+ years of playing and performing.  In recent years, she has put a mic beside her keyboard and grabs the audience with her unsuspecting and delicate vocal harmonies. Jill is a proud Maritimer from New Brunswick and now calls the Ottawa region home.
Dan Austin – Lead Singer / Rythm Guitar
Dan is the mastermind behind the band and has been playing guitar for the last 10+ years (let's be honest, no one is self taught, his friends have helped him along the way).  His stage presence will have the audience eating out of the palm of his hand, and his powerful vocals will leave shivers down your spine as his voice soars in unexpected directions.  Dan grew up on the clean streets of Ottawa and can delivery a terribly awesome Dad joke.
Todd Charbonneau – Lead Guitar / Backup Vocals
Todd has been shredding on the guitar since the age of 15. Music speaks louder than words; although, he's a man of few words, his sizzling guitar solos always speak volumes and leave you wanting more. Todd is originally from Toronto, loves a good chat thread, and is the Rock to our Roll. 
Jeff Cameron – Drummer / Backup Vocals
Jeff has 15+ years of Pipe Band Snare drumming experience under his belt, and has competed in the both World and North American Pipe Band Championships.  He's a traditional style player that knows his way around most percussion instruments, and made the jump to the drum kit in 2015 without missing a beat. Jeff grew up in Vankleek Hill and is a proud supporter of Beau's Beer.